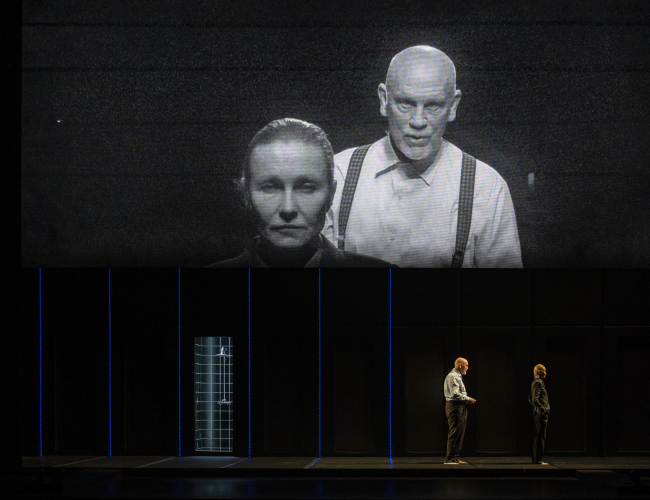 In the Solitude of Cotton Fields
Director:

Timofey Kulyabin

Theatre:

COPRODUCTION DAILES THEATRE LATVIA AND EKATERINA YAKIMOVA

Hosting Theatre:

Griboedov Theater

Date:

7 October - 20:00 hr,

8 October - 20:00 hr,
The performance has been cancelled
COPRODUCTION DAILES THEATRE LATVIA AND EKATERINA YAKIMOVA
Drama
Author of the Play Bernard-Marie Koltès
Directed by Timofey Kulyabin
Sound Designer Timofei Pastukhov
Designer Oleg Golovko
Choreographer Anna Abalikhina
Duration: 70 minutes, without intermission
Cast:
Ingeborga Dapkunaite & John Malkovich
General partner Blavatnik Family Foundation
ABOUT PERFORMANCE:
A deal is a commercial transaction concerning goods that are prohibited or otherwise strictly controlled. Deals take place in neutral and undefined spaces -- spaces not meant for such transactions -- between those who have and those who seek, by tacit understanding, by agreed upon signals, by innuendo -- at any time, day or night, other than the hours when duly licensed businesses are open, but, rather, when such commerce has shut its doors. The goal is to avoid the risks of betrayal and scamming frequent in such deals.
So let me propose equality. For a jacket in the dust, I'll pay with a jacket in the dust. Let us be equals, equal in pride, equal in powerlessness, equally unarmed, equally suffering. I'll pay for your half nakedness, your half humiliation, with half of mine.
The famous play by Bernard Marie Koltes was written in 1985. The given circumstances are strange. Two people meet in a dark cross street, one is the "seller", the other is the "buyer". The seller is trying to sell the buyer something that he has to tell himself. However, the buyer does not want to call this object by name and refuses the transaction in any way. The play is their argument, the confrontation of these two people, expressed in a play of words and meanings.
Presented by Flow Projects and Bormio
Roman Dolzhansky, dramaturg of the performance
"What more could John and I perform together?" - Ingeborga asked me. The question was raised in October 2020. In another life, in another world, you could say. In between two waves of the frantic Covid, we have found shelter in a spa center not far away from Moscow. A magical place hidden in the woods just an hour drive away from the center of the metropolis. And here we were, sitting on a bench by the lake after our due massages. baths and vitamin injections. I didn't need any clarification about which John she meant. Ingeborga and John Malkovich's friendship goes back 30 years. They met once in Chicago and have been together on film sets and theater stages in different parts of the world many times ever since. But what could their new mutual theatre project be? Borders were closed, there was a pandemic, you had to do a test for everything, masks were mandatory... In fact, there were many obstacles even before, but when these two started to think of their next joint project, all the borders opened up and their overbooked schedules magically cleared up.
When we are on vacation, our brains work poorly. We lazily listed the famous banalities of the world repertoire "for two" - Macbeth and Lady Macbeth, "The Old World Landlords" by Gogol (no, it's still too early for that text!), Antony and Cleopatra... No, not that. "Dear Liar" about Bernard Shaw and Stella Patrick Campbeli? But to sit in the two corners of the stage and read their letters - slightly smells of naphthalene. By the way, a film about Stravinsky and Coco Chanel had recently come out, also an interesting subject. Maybe yes... Or we could do "Brief Encounter" - this wonderful melodrama, shot on the basis of Noel Coward's play. We were looking for something that we could tour again, something that the audience would laugh and cry at, something democratic but graceful and sophisticated.
It was time to go to lunch.
The next day we were walking in the forest. God, there are so many texts written but how hard it is to 'knockout' the right material for two great actors. And right there it suddenly popped under my tongue: "In the Solitude of Cotton Fields"
In the mid-1990s. the book "West Pier", a collection of plays by the French playwright Bernard-Marie Koltès, appeared in Russian. By that time he had already died of the "plague of the 20th century". In his homeland, he was already considered a modern classic, and it was our turn to become acquainted with his strange, unlike anything, magnetic texts, which literally sent a chill through the reader's body with their density and the uncomfortable feeling they evoked. Many of us couldn't "swallow" Koltès' texts, others, myself included, couldn't "peel ourselves away" and were plunged again and again into this dangerous. disturbing, deceptive and alluring dramaturgical abyss. I found the play "In the Solitude of the Cotton Fields" particularly mysterious and compelling - a conversation between a Dealer and a Client who meet when and where indetermined, discussing some transaction which subject is not entirely clear. The more they talk - in big, complicated, confused monologues - the clearer it becomes that they cannot do without each other, that this exquisite French-style and tiresome game is built around a secret desire, the desire to conquer the other.
Years passed by. My dream of seeing Koltès' enigmatic masterpiece on stage literally haunted me (I knew there were performances based on it, but they somehow passed me by). At some point, I gave Koltès' play to Timofey Kulyabin, with whom I had already worked as a dramaturg on several of his projects. He said that he fell in love with the play. so he "hijacked" it to Novosibirsk and started rehearsing it with the actors from the Red Torch Theatre. I was surprised to learn that he was rehearsing not with two actors, but with an actor and an actress - so he had come up with a different from the conventional understanding of this play. After all, a lot of time has passed since the 1980s, when the play was written. And new meanings must have emerged. After a while, things in Novosibirsk went quiet. The theatre began to doubt that such a complex work would attract audiences. The everlasting problem of the theatre managers - "who would buy a ticket".
Meanwhile, in another production of Timofey at Moscow's Theatre of Nations - "The Broken Jug by Kleist, which premiered in September 2020, Ingeborga played inspector Walter brilliantly. Between the actress and the director a mutual understanding and a desire to continue working together obviously arose. So, unexpectedly and instantly, the puzzle lined up in my head - Koltes. Ingeborga Dapkunaite. Timofey Kulyabin... and John Malkovich? It hadn't been two and a half months after our spa brainstorm with Ingeborga when a world famous face appeared in one of the Zoom squares on my computer screen. John was at his home in Boston, Kulyabin in Novosibirsk, Ingeborga and I in Moscow, each in our own kitchen. Malkovich had already read the play, he was well-intentioned but thoughtful. When we asked him how he felt about "The Cotton Fields", he was silent and said only one thing - it is dense... and we started reading.
A year later, in January 2022 we gathered in the rehearsal hall of Riga's Dailes Theatre for the first live rehearsals. After ten days, it became clear that the performance would be unexpected, beautiful and precise in its details. But why in Riga? It was our producer Katya Yakimova's idea - if you want to tour internationally, it would be easier to choose a European city as a "base", not a Russian one. Riga is much cheaper than Paris or Berlin, and we have a lot of friends and acquaintances there. Taking into account what happened three weeks after the January rehearsals, it was the right idea squared.
The war began. The news was getting scarier and scarier. Many of the creators of the performance found themselves not where they usually were or were expecting to be It wasn't artistic ideas that lingered in our minds, but terrible news and unexpected domestic problems. The whole month of March passed in convulsive negotiations and daily doubts
Airlines suspended flights, visas were not granted, bank accounts stopped working. Sponsorship money coming from Russia became a problem. Against the backdrop of the terrible events in Ukraine, it was unclear whether the dreadful but deeply private story of this break-down would be sustainable? Would a performance of "In the Solitude of the Cotton Fields" be able to hold up in the face of the global crisis around it?
I believe that this May in Riga simply saved us all from our personal psychological collapse The mysterious and elusive Koltès presented us the opportunity to immerse ourselves in the rehearsals. And, as the more complex the artistic fabric came out to be - for the amazing actors as well as for the creative and technical team - the more carried aw everyone became in their work
How curious: sometimes it seems to us that you can find salvation in something co cheerful obvious, but it turns out that a hand is offered by one who has sensed more deeply than others the imperfection and hopelessness of existence.
The premiere was at the very end of May. There was a long, almost eight-month long pause, after which we got back together again. Athens, Sofia, further on - everywhere.
Who and how is experiencing this unattainable time, through pandemic and war, from organized life into the unknown. We are here - with "The Cotton Fields." And all the time I keep repeating to myself the line from the play- "Here, where we're alone, in the infinite solitude of this hour and this place, neither of which can be defined... let's just be simple, solitary. and proud zeros".
The text was written specially for the visit of the production in Sofia.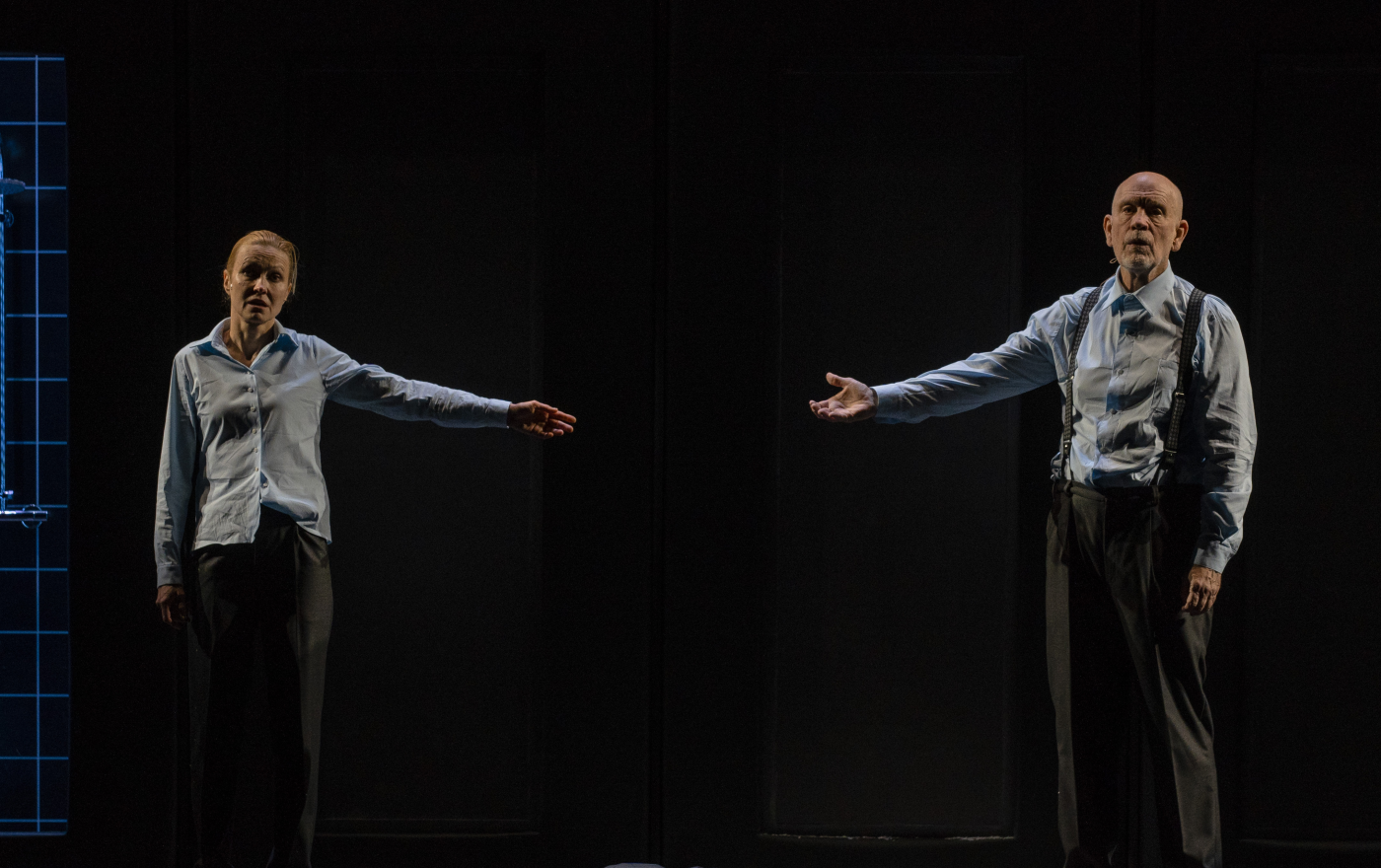 Gallery