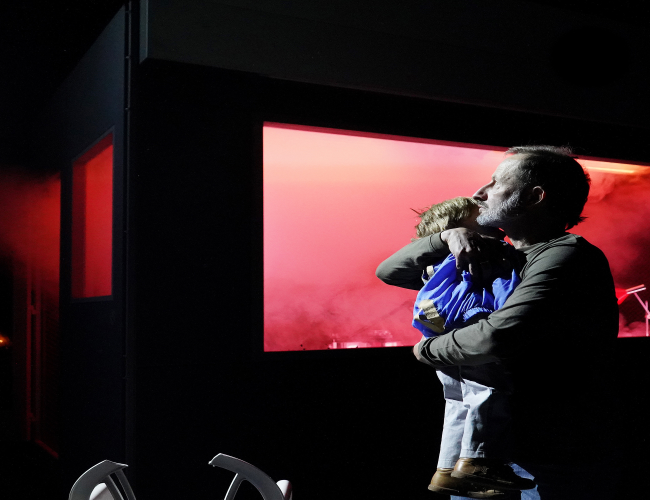 War reporters
Director:

Cie QUE FAIRE? - Sébastien Foucault

Theatre:

Théâtre de Liège ?

Hosting Theatre:

Kote Marjanishvili State Professional Drama Theater (Big Stage)

Date:

17 October - 20:00 hr,

18 October - 20:00 hr,
Julie Remacle, Sébastien Foucault and ensemble
documentary theatre
Director: Cie QUE FAIRE? - Sébastien Foucault
Composer : Alf Kevin Jaspar
Designer : Anton Lukas
Duration: 95 minute, without intermission
Cast:
Françoise Wallemacq, Vedrana Božinović, Michel Villée
With the names of the actors pictured on the image (from left to right) :
Image 1 : Françoise Wallemacq
Image 2 : Michel Villée
Image 3 : Vedrana Božinović, Françoise Wallemacq & Michel Villée
Image 4 : Vedrana Božinović & Michel Villée
Image 5 : Michel Villée
Image 6 : Michel Villée
Image 7 : Michel Villée et Françoise Wallemacq
Image 8 : Vedrana Božinović & Michel Villée
Image 9 : Michel Villée
Image 10 : Vedrana Božinović
Image 11 : Vedrana Božinović & Françoise Wallemacq
Image 12 : Michel Villée & Vedrana Božinović
Image 13 : Vedrana Božinović & Françoise Wallemacq
Image 14 : Julie Remacle, Dramaturge, playwright.
Image 15 : Sébastien Foucault, director.
The full name of the Photographer(s) :
Image 1 : Françoise Wallemacq
Image 2 : Dominique Houcmant-Goldo
Image 3, 4, 5 et 6 : Françoise Robert
Image 7, 8, 9, 10, 11, 12, 13, 14 : Céline Chariot
Image 15 : David Murgia
About performance :
War Reporters is a theatrical documentary performance about the war in Bosnia - a metaphor for the present time.
In the early 90's, hundreds of journalists came from all over the world to cover the conflict in Yugoslavia, in the heart of Europe that believed itself inoculated against war. Twenty-five years later, what do we, as spectators, remember about these wars? Almost nothing, vague clichés, dust.
For War Reporters, Vedrana Božinović (journalist during the siege of Sarajevo, now an actress) and Michel Villée (former press officer at MSF-Belgium, now a puppeteer) accompany Françoise Wallemacq (radio journalist at RTBF) on a journey through the most striking reports she made in Bosnia between 1991 and 1995.
How, as a journalist or an artist, do you tell the story of war? Which dialogue is created between art and journalism? How can journalism and art contribute to resist chaos and collapse?
On stage, Françoise, Vedrana, and Michel summon their memories, those of the local and international journalists who covered this war, and those of the witnesses that the Belgian journalist interviewed at the time and that she found 25 years later. So many vivid, singular, essential memories that each of them explores with his or her own weapons in an attempt to unearth something in order to face our future.
Press:
What the press and professionals say
"At the Kunstenfestivaldesarts, there is a show that echoes painfully with current events. What to tell about a war, how to say the unspeakable to prevent future eruptions of violence? Sébastien Foucault answers this question by returning to Bosnia with his "War Reporters" (...) A work of art that strengthens the psyche of the spectators, that consoles them for their disarray, that forges the seeds of a lasting resistance to the violence of the world." Le MAD / Le Soir
"An ambitious and well documented show that looks back at the war in Bosnia and its aftermath to better denounce the current rise of nationalism." Le Vif Magazine
"All these moments will be lost in oblivion... like... tears... in the rain." With these words from Roy, a humanoid robot doomed to destruction in Blade Runner, War Reporters opens. We expected everything but to dive back into Ridley Scott's cult film by going to discover Sébastien Foucault's show, a documentary piece that resurrects the Bosnian war to understand the role of journalists and the responsibility of their story. Yet Blade Runner weaves a perfectly coherent thread in this dizzying plunge into the heart of a conflict dutifully covered by the press, like today's war in Ukraine, and yet largely forgotten in our lands... like tears fade in the rain." Le Soir
"The clarity of the discourse and the mastery of the staging instruct us as much as they immerse us in the story." Le Suricate Magazine
"With the greatest respect for theatrical material and its assumed artifices, Sébastien Foucault and his "clever team" take us into the twists and turns of the past and those to come (...) of European geopolitics through the prism of journalistic analysis. A great theatrical moment that echoes reality and underlines - oh how - presumptuous we are." Pierre Thys, director of the TN, Brussels
"A clinical and heartbreaking reconstruction that intelligently draws connections between the situation in Bosnia and the situation in Belgium. This is the part where you are supposed to cry," says Vedrana. "But don't worry, in five minutes, you will have forgotten everything." In this case, it's not true. Several days later, the images are still there." Focus Vif
"While Ukraine has been resisting Russian assaults since February and nationalist parties are gaining more and more votes in Europe, this play challenges us and revives our memories in light of the war in the former Yugoslavia: "You are really ignorant and stupid if you think that war will never happen at home," warns Vedrana Božinović."
La Libre Belgique
"A show that goes from the head to the heart and from the heart to the stomach," "that hits right in the heart," with performers of "unconditional credibility." PZAZZ
"Discovering War Reporters by Sébastien Foucault (Cie Que Faire?) on the day of the assassination of the journalist Shireen Abu Aqle who had been covering the Israeli-Palestinian conflict for a long time, to commune with the actors at the painful evocation of the siege of Sarajevo at the moment when the shelling of Mariupol perpetuates the obscenity of the barbarity, is not a hazardous coincidence but the evidence that War is everywhere, in a latent state, ready to resume and devour everything, here and there, as soon as the irrepressible savagery overcomes all reason. The show, carried by a beautiful trio, plays with languages (Bosnian, English, French, Flemish), invents a clever game of surtitles that allows to be as close as possible to the crossed stories. In short, a very beautiful work!" Patrick Penot, director of the Sens Interdit Festival, Lyon
"A necessary, deeply human, fine, intelligent, courageous, admirable, sensitive, fragile, touching, breathless, urgent, and gently hard work." Raven Ruëll, Director
"One viewing is not much to judge such a great work. But it's exciting...you still think about it afterwards." Caroline Lamarche, Author
For more information:
Listen to Sébastien Foucault and Françoise Wallemacq talk about War Reporters for France Culture, interviewed by Aurélie Charon (podcast). https://www.franceculture.fr/emissions/tous-en-scene/reporters-de-guerre-sur-scene-25-ans-apres-sarajevo
Credits
A production of Cie Que Faire? Asbl and Théâtre de Liège,
In coproduction with Kunstenfestivaldesarts, Tandem Arras-Douai (France), Théâtre Les Tanneurs and NTGent.
With the support of Théâtre & Publics, IIPM, the National Theatre of Zagreb (Croatia), the Tax Shelter of the Federal Government of Belgium, Inver Tax Shelter and RTBF.
With the help of the Ministry of the Walloon Federation Brussels - Service Théâtre & Démocratie ou Barbarie (Décret-mémoire).
Director - Sébastien Foucault
Dramaturgy - Julie Remacle
Writing - Sébastien Foucault, Julie Remacle and ensemble
Acting - Françoise Wallemacq, Vedrana Božinović, Michel Villée
Research - Sébastien Foucault, Françoise Wallemacq, Vedrana Božinović, Michel Villée, Mascha Euchner-Martinez, Mirna Rustemovic, Maxime Jennes, Nikša Kušelj
Assistant - Jeanne Berger
Production & Tour Manager - Mascha Euchner-Martinez
Set design - Anton Lukas
Lighting design - Caspar Langhoff
Sound design - Kevin Alf Jaspar
Stage and Video Manager - Jens Baudisch
Stage Manager - Olivier Arnoldy
Puppet Designer - Loïc Nebreda
Set design - Sandra Belloi & Cédric Debatty
Infography - Julien Hubert
Documentary research - Christine Foucault
Translation - Boris Radović, Leila Putcuyps
MORE :
Dramaturgy
Can one, and if so how, tell the story of war to someone who has not lived through it?
The show is divided into two parts:
1/ Through radio variations (theatricalized), the three performers narrate their war in Bosnia, the one they have witnessed.
2/ Theatrical variations around the forgotten massacre of Tuzla, and more specifically the death of the youngest victim, Sandro Kalesić, two and a half years old. The play ends with a dreamlike reconstruction of the massacre.
Around the performances
We propose workshops entitled "Violence and Reparations", directed by the director Sébastien Foucault, in collaboration with a puppeteer or a photojournalist or a radio journalist.
On the occasion of the performances at Tandem Douai-Arras and at Théâtre Les Tanneurs, within the framework of the Kunstenfestivaldesarts in Brussels, we proposed after talks with war journalists and Balkan specialists.
Note that beyond the traditional audiences, War Reporters is of particular interest to the academic and journalistic communities (the show has been invited to the European Journalism Conference in Brussels in November 2022).
The show is suitable for children aged 14 and over: an educational file is available for teachers who wish to use it.
For further information
Excerpts from the portrait " Sébastien Foucault, récolteur d'histoire(s) ", written by the team of Théâtre Les Tanneurs (Brussels)
LET THE LIVING SPEAK
There are thousands ways to practice journalism. In War Reporters, Sébastien Foucault chose the radio, a medium that accompanies him daily and has opened him up to the world. As Françoise Wallemacq says so well, "radio is more intimate... more respectful of people too. No camera to devour them. To steal their image. No sensationalism, unlike TV or the Internet." For this project, Sébastien Foucault turned to Françoise Wallemacq, a journalist at RTBF. When she was covering the conflict in Bosnia between 1992 and 1995, she focused a lot of her attention on the fate of civilians, those who are prisoners of this collective and individual tragedy that is war. Through her reports, listeners can understand, but also identify themselves. Like the historian Svetlana Alexievitch, who greatly influences Sébastien's work, she documents perhaps more a history of emotions than a history of facts. Françoise Wallemacq is not the main character of War Reporters, but the alter ego of the viewer - the one who has experienced the World on her behalf. Sébastien Foucault summons around her, on stage, actresses and actors who are direct and indirect witnesses of the war in Bosnia, a country that, despite repeated appeals and promises, has remained on the sidelines of Europe, a country where war continues to contaminate the imaginary and political discourses. Between 2019 and 2021, Sébastien Foucault and his team made several research journeys to Bosnia in order to meet, among others, witnesses that Françoise Wallemacq had interviewed twenty-five years earlier. During their investigation, they went to meet international reporters and local journalists who covered the collapse of the Yugoslav block, so many approaches to the profession that interact through the show. What should be shown or hidden, kept quiet or revealed? War Reporters is a collective and polyphonic story where experiences, sensitivities and viewpoints confront each other in a fraternal way: local and external perspectives, direct and indirect witnesses, artists and journalists, Central Europeans and Western Europeans.
APPROACHING WAR
For the past ten years, the main part of Sébastien Foucault's work has consisted in examining the mechanisms of individual and collective violence, and the suffering it generates. In this context, war, which imposes the experience of tragedy on the individual and the group, is an obsessive subject. It reveals the worst of the human being, but also sometimes, the very best in him or her. The wars of former Yugoslavia took place just a stone's throw from our home, when Sébastien Foucault's awareness of the world was opening up. At a time when the European project is crumbling, when identity-based withdrawal and hatred are resurfacing, he finds it revealing to question what was played out during the collapse of the Yugoslav block.
ART AS SURVIVAL
Sébastien Foucault was marked by the fact that, even during the siege of Sarajevo, cultural life - theater, concerts, exhibitions, the Miss Sarajevo contest... - continued at all costs. As if art was one of the last bulwarks against the feeling of annihilation, as if, in the midst of the horror, it gave a possible (even illusory) meaning to existence. "Secondary, inessential, the Art and the Culture?" Sebastien protests.
The actresses and actors of War Reporters are witnesses of the war. As artists, they master the techniques of representation. As witnesses, they embody (literally) History. Sébastien Foucault tries to understand why all these people turned to art after experiencing traumatic episodes. Françoise Wallemacq, who plays her own role, also participates in this artistic act. It is as if she surrounded herself with artists in order to bring back into play the reports and situations she experienced in the field and to present them in a different way.
www.compagniequefaire.be
The company Que faire ? brings together two artists, Julie Remacle and Sébastien Foucault, driven by a common desire to transform a feeling of powerlessness in the face of the world into concrete gestures, both political and poetic. For ten years, the Compagnie Que faire? has been producing original artistic creations rooted in reality (Que faire?, Buzz, C'est pas la fin du monde, Reporters de guerre).
Faced with the new challenges of the human race, we believe that artists must tirelessly consolidate the old cultural ramparts and build new ones: creating "pragmatic symbols" that work to confront the dark ages that always threaten to return, awakening the darkest impulses of humanity. To work with integrity, with lucidity, but also, as far as possible, with joy, making our own the quote of the great writer Antonio Gramsci: "I am pessimistic by intelligence, but optimistic by will.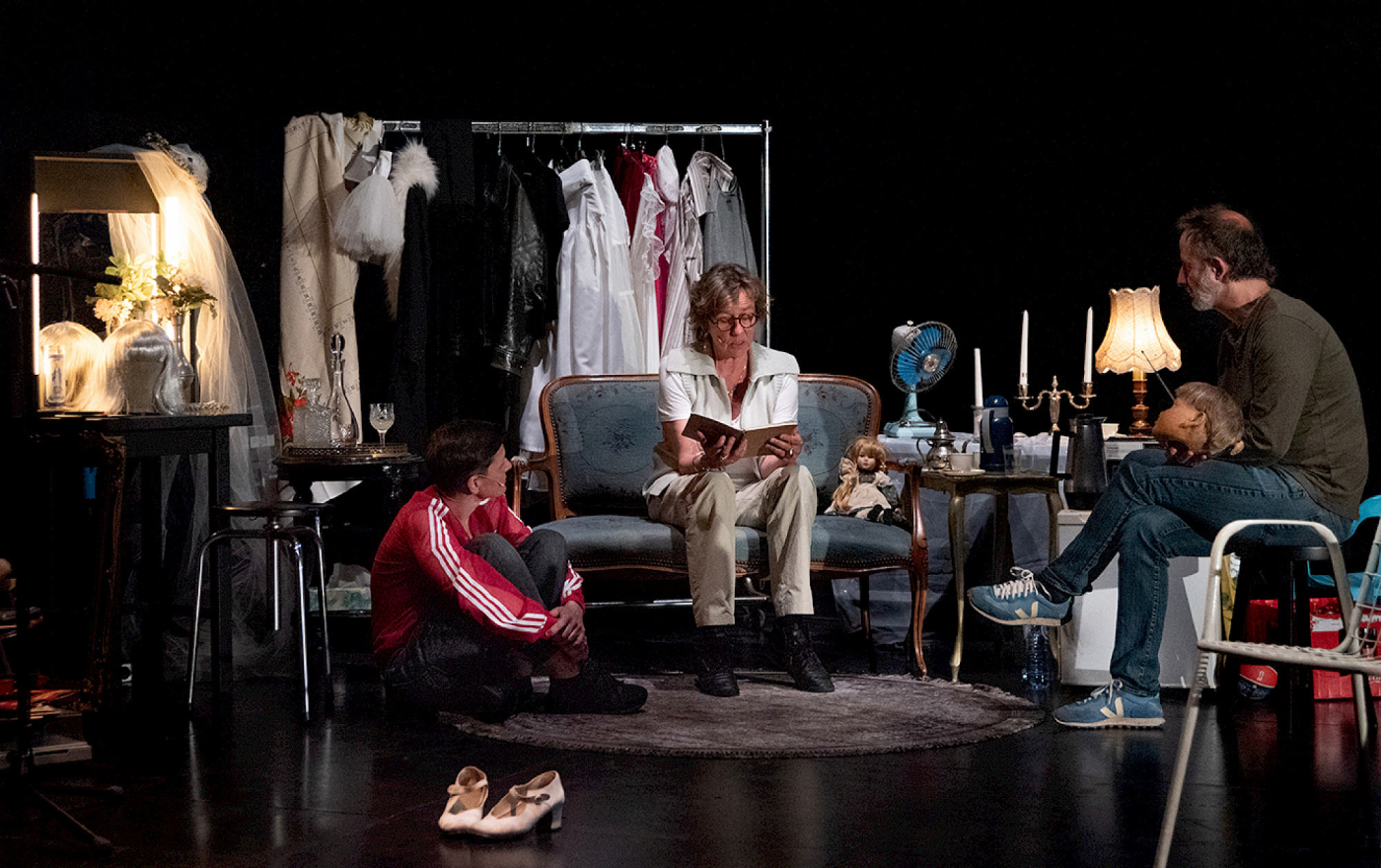 Gallery